A business capability is a functional building block of the business architecture that supports the business model and the business strategy. It defines the organization's capacity to successfully perform an unique business activity. Based on business capabilities, business capability maps can be created, which enable the assessment of capabilities and support the identification and communication of EA demands [Man12].
---
Business Capability & Business Capability Maps Foundations
A business capability is an abstraction of a business function, answering the question what a company needs to be able to do to be successful [Man12; Fuh11c]. Each business capability is independent from other business capabilities [Ale+15] and realized by combining different elements of the EA which are related via their functionality [Man12]. In more specific terms, business processes, human resources as well as IT applications and technical resources are combined to fulfill one functionality as illustrated in Figure 1 [Man10]. The combination of these elements is independent of organizational silos like product, channel or client categories [Fuh11c].

Figure 1: Elements of a Business Capability [Based on: T. Mannmeusel. "EAM im Mittelstand." In: Enterprise Architecture Management (EAM) in der Praxis. Düsseldorf: Symposion Publishing GmbH, 2010, pp. 331–376.]
After the business capabilities of an enterprise are defined, they can be organized into a business capability map. An example of a business capability map is illustrated in Figure 2. Based on such a map, enterprises can identify those business capabilities, which are essential for their success and therefore should be optimally supported, and those which are commodities. But not only existing business capabilities can be analyzed, also new business capabilities required to support the business strategy can be revealed [Man12].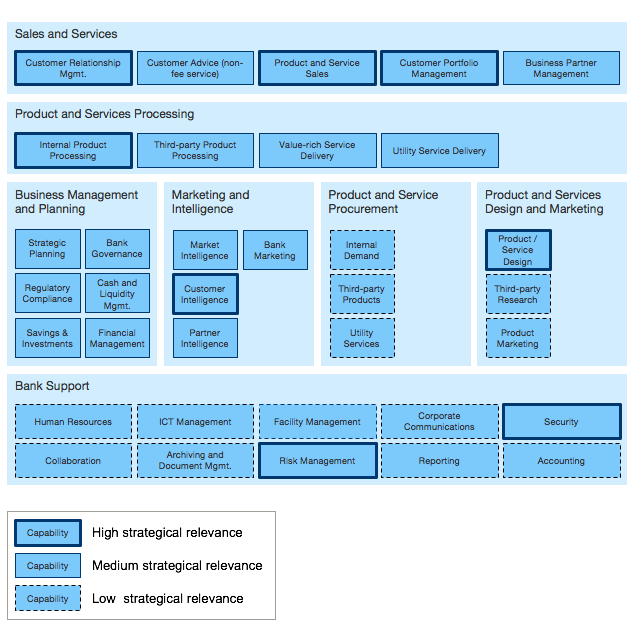 Figure 2: An example of a Business Capability Map including an assessment of strategic relevance of capabilities.
In a next step, business capabilities are related with the applications supporting them. While doing so, several applications can be mapped to a certain business capability [Man10] and an application can be used to support several business capabilities [Man10; Fuh11c]. This procedure creates a visualization of the links between enterprise architecture and IT architecture [Fuh11c].
Advantages of using Business Capabilities & Business Capability Maps
The business capability map can be used as a basis for analyzing how an IT landscape can be transformed to optimally support the business [Fuh11c]. This means transparency is created with regards to which business capabilities are badly supported by available applications. If such a deficit is recognized for an important business capability, measures can be taken.
Additionally, business capability maps provide a common communication basis to illustrate transformation needs to the business since IT can structure and formulate its requirements in a functional, not a technical way [Fuh11c; Fuh13b]. Further advantages of the usage of business capability maps are a better alignment between business and IT as well as an uncovering of redundant planned investments into equal functionalities [Fuh11d].
Concluding, business capability maps can support a more efficient and effective IT Portfolio Management.
---
Sources:
| | |
| --- | --- |
| | T. Mannmeusel. "Management von Unternehmensarchitekturen in der Praxis: Organisatorische Herausforderungen in mittelständischen Unternehmen." In: Analyse und Gestaltung leistungsfähiger IS-Architekturen Modellbasierte Methoden aus Forschung und Lehre in der Praxis. Ed. by J. Suchan C; Frank. Berlin Heidelberg: Springer Verlag, 2012, pp. 35–57. |
| | K. Fuhrer. "Teil 3: Standardblickwinkel und Praxissichten Geschäft und IT-Entwicklung." In: Enterprise Architecture Deliverables: Welche Ergebnisse liefert Enterprise Architecture? OPITZ CONSULTING GmbH. 2011. |
| | T. Mannmeusel. "EAM im Mittelstand." In: Enterprise Architecture Management (EAM) in der Praxis. Düsseldorf: Symposion Publishing GmbH, 2010, pp. 331–376. |
| | K. Fuhrer. "Teil 4: Standardblickwinkel und Praxissichten Infrastruktur und Technologie, Resümee und Ausblick." In: Enterprise Architecture Deliverables: Welche Ergebnisse liefert Enterprise Architecture? OPITZ CONSULTING GmbH. 2011. |
| | |
| | |